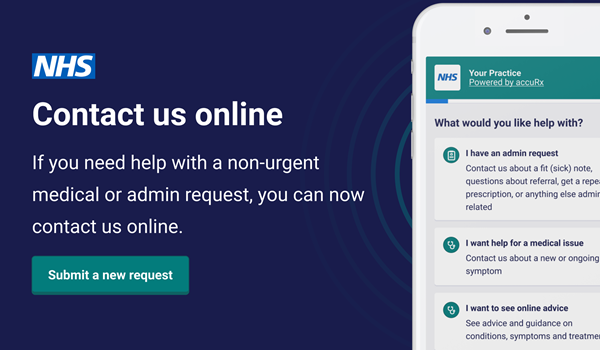 **CONTACT US ONLINE**
We operate an online triage system to allow those with digital access to submit an online triage request for patients requesting advice from a healthcare professional.
If you do not have access to the internet or feel unable to complete the triage form then please call reception and a member of our team will be happy to assist you to complete the form or complete on your behalf.
All requests for medical advice should now be submitted via our online triage system - please CLICK HERE to submit a request.
Our online e-consultation service will let you request treatment, advice or guidance, FIT notes, recent test results and more.
All forms submitted within core working hours will be reviewed by a clinician on the day and responded to within 3 working days.
If the clinician considers your request to be more urgent, you will be contacted on the day either by text message or telephone contact
Our aim is to respond to all NON-clinical or administrative queries on the day wherever possible.
PLEASE BE REASSURED THAT PATIENTS WHO DO NOT HAVE OR USE DIGITAL ACCESS WILL STILL BE ABLE TO ACCESS OUR SERVICES IN THE USUAL WAY AND WILL NOT BE DISADVANTAGED IN ANY WAY
WE HAVE NO PLANS TO CEASE OUR EXISTING TELEPHONE SERVICES AND OUR HEALTHCARE TEAMS ARE HERE AS NORMAL.
Due to the continuing unpredictability of staff sickness due to COVID-19 and associated healthcare setting isolation guidelines our daily clinical capacity continues to be significantly reduced during these times.
Please consider if your community pharmacist can help with minor ailments or visit www.nhs.uk for medical advice
PLEASE NOTE members of our reception and administration team are available at the practice to assist if you have no internet accessibility and we continue to use our intercom for our meet and greet facility to continue to keep our footfall to a minimum to try and reduce the spread of infection for patients visiting our surgery
We continue to respectly ask that you wear a face covering whilst in the building in order to help us continue to protect our clinically vulnerable patients
Vaccination Update - including AUTUMN BOOSTERS
All queries regarding COVID vaccinations must be directed to 119
The surgery do not have any access to vaccinations and the team will signpost you to 119
You will be contacted by NHS England to make an appointment if you are eligible for vaccinations or additional boosters
Face coverings will remain whilst in and around the building
Please be advised that if you are visiting our GP surgery you will still be asked to wear a facemask or face shield whilst in and around the building and during your consultation.
Despite any changes in current guidance coming into force in the community, hospitals and other primary care buildings and services in central Lancashire, the practice will not be currently changing at this time.
Therefore, all health and social care staff, volunteers, patients and visitors to our practice will still be required to continue to follow the below:
HANDS:Wash hands regularly with soap and water or hand gel if hand washing facilities are not available
FACE:Wear a face covering in practice buildings
Thank you for helping us continue to keep our vulnerable patients and staff safe during your visit to the practice and in consultations
COVID-19 BOOSTER VACCINE INFORMATION
The coronavirus (COVID-19) booster vaccine programme is continuing to be rolled out across the country.
A booster dose helps improve the protection you have from your first two doses of the vaccine and gives you longer-term protection against getting seriously ill from COVID-19.
If you have not yet been contacted to book your booster dose then please do not worry. You will be invited to do so as soon as possible. You do not need to contact your local GP or any other NHS service at this stage.
The NHS has initially been prioritising boosters for those most at risk, such as care and nursing home residents. Over the coming weeks more and more people, including housebound individuals, will be invited to book an appointment for the booster dose.
In the meantime, if you know you are eligible and would prefer not to wait then you can book an appointment via the national booking system online.
Further information about COVID-19 vaccines is available at: www.nhs.uk/conditions/coronavirus-covid-19/coronavirus-vaccination/coronavirus-vaccine
COVID-19 VACCINATION STATUS
Vaccine passes are not the GP's responsibility – GP Practice's have no control over the system or how it is implemented. This practice is not able to provide you with a letter that shows your COVID-19 vaccination status.
Patients in England who have been fully vaccinated against COVID-19 can demonstrate their vaccination status for international travel. A full course is currently two doses of any approved vaccine. Vaccine status will be available from:
It may take more than a week for your identity to be checked and verified so you can use this service.
If you cannot access the online services, and you have had 2 vaccines, you can request a paper letter from the NHS by calling 119. Only call 119 if you are due to travel abroad in the near future and have had your second dose more than 5 working days ago. It may take 7 working days for the letter to arrive.
When you're planning your travel, check the latest information on demonstrating your COVID-19 status when travelling abroad on the gov.uk website. Make sure there is time to get proof of your vaccination status before you leave.
Frequently asked questions
Who do I contact if I have a problem with the app or getting a letter?
You must contact 119
When I try to view my record it says I need some information from my GP – how do I get this?
This information is related to Online Access. You do not need this information to view your COVID Vaccine status – you are most likely looking in the wrong part of the app. Call 119 for help.
However we are happy to set up online access for you so that you can view your results and other parts of your medical record. See here for more information.
I had one or both of my vaccines abroad – will I be able to get a vaccine pass on the app or as a letter?
No – the system is not built to allow for the recording of vaccines given outside of the UK. We can add the information to your GP record but this will not be reflected on the national system on which the COVID pass is based.
I had one or both of my vaccines in another part of the UK (Wales, Scotland, Northern Ireland) – will I be able to get a vaccine pass on the app or as a letter?
No – COVID vaccination data is held on different systems in the different countries so will not appear on the app. If you had both vaccines in one of the other UK countries then you might be able to request a letter as proof.
For Scotland: https://www.nhsinform.scot/covid-19-vaccine/after-your-vaccine/get-a-record- of-your-coronavirus-covid-19-vaccination-status
For Wales: https://gov.wales/get-nhs-covid-pass-show-your-vaccination-status-travel
For Northern Ireland: https://www.nidirect.gov.uk/articles/get-covid-19-vaccination-northern- ireland
I had my vaccine as part of a clinical trial – will I be able to get a vaccine pass on the app or as a letter?
You should have received a print-out confirming your vaccination as part of the trial, and this should be used as your evidence of being vaccinated.
Newsletter
To receive future editions of the newsletter straight to your inbox sign up below.