My NHS Healthcheck
The NHS Health Check is a free check-up of your overall health. It can tell you whether you're at higher risk of getting certain health problems, such as:
Heart Disease
Diabetes
Kidney Disease
Stroke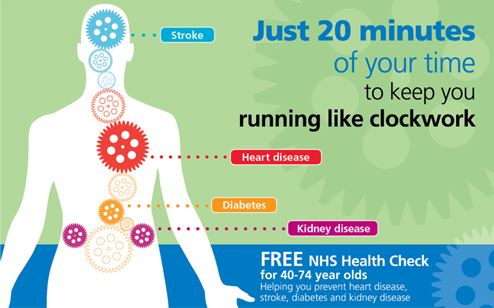 What Will I Need To Bring/Prepare
The first step in the process is to attend for a NON-FASTING BLOOD TEST.
You can book this either online by downloading the NHS app NHS App and your NHS account - NHS (www.nhs.uk) or by calling the surgery on 01772 503180.
Next is a follow up appointment for your test results in the NHS Health Check. This appointment will be with one of our GP Assistants (GPA) and should be made at least a week after your blood test. This is to ensure that your blood test results are back for your review appointment.
At Your NHS Health Check Review
The review appointment will last for up to 20 minutes
At your appointment the GPA will;
Ask you some questions about your lifestyle and family history
Measure your height and weight
Take your blood pressure
Your blood test results can show your chances of getting heart disease, stroke, kidney disease and diabetes.
If you're over 65, you will also be told the signs and symptoms of dementia to look out for.
You will then receive personalised advice to improve your risk. This could include talking about:
how to improve your diet and the amount of physical activity you do
taking medicines to lower your blood pressure or cholesterol
how to lose weight or stop smoking
You will have your individual cardiovascular risk (risk of getting conditions related to the heart or circulation) calculated and explained to you.